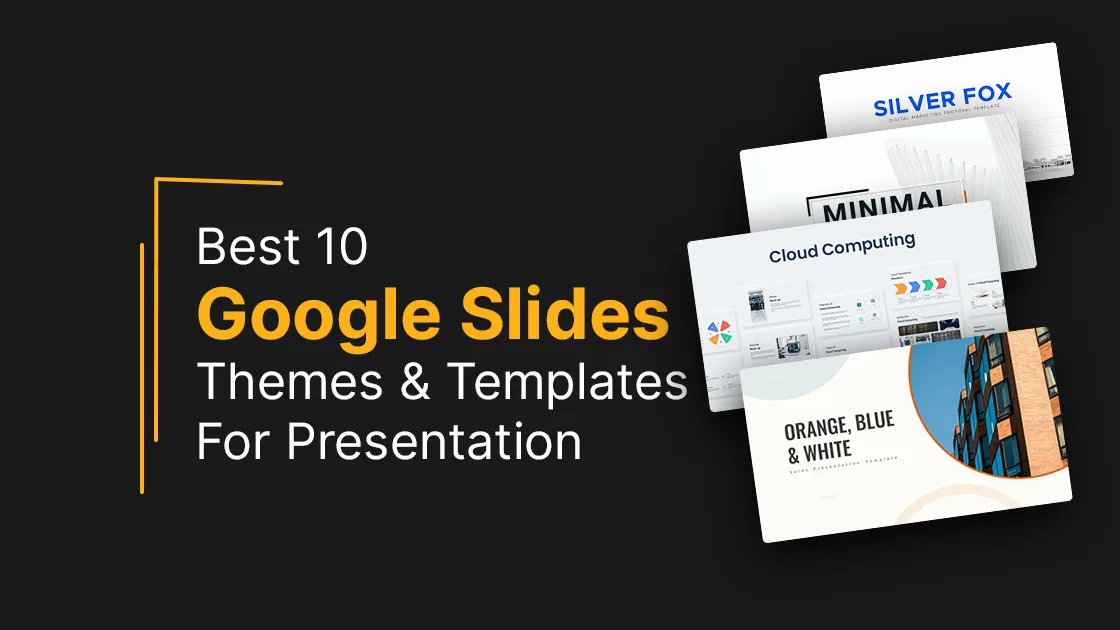 How could you share your project updates, sales statistics, and annual report with your stakeholders and teammates? You have many methods to transmit data updates. But all methods may be in the same tone as a worksheet with a tiresome report presentation layout. If you want to share your message visually appealing, you should create your own or download pre-made presentation templates. In this article, you can find a list of the best google slide themes and templates to create multiple presentations without being bogged down with unnecessary images and confusing jargon.
Even a colorful slide can't hold the audience's attention or meet your presentation objectives if the layout won't be able to pass your messages accurately. So, a wise selection of templates will only navigate you to the right port. In this post, we have compiled some of the best themes for google slides to produce multiple presentations that make impactful results for your business. These cool google slides themes combine various designs, including charts, graphs, diagrams, and all types of infographics for an end-to-end business presentation.
10 Best Google Slides Templates For 2023
We have covered the advantages of making a visually appealing presentation. So, don't wait any longer; get started today and see the difference that a professionally created google slides theme can make. Scroll down to the end and find a free google slide template of your choice. Here we go…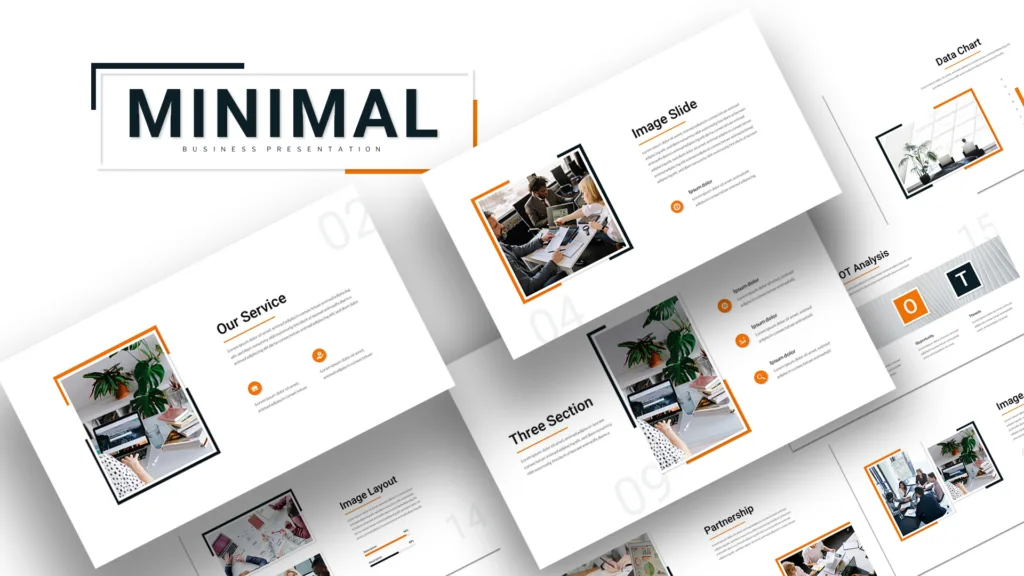 The minimalist business template will make your presentation simple, as the name suggests, but it perfectly incorporates your ideas being a generic presentation model. Here the designers integrated 20 simple business slides with photo edit placeholders on white color background. Ideally, the designs are perfect for business introductions with a range of SmartArt vector-based layouts. For example, the SWOT analysis slide and the data chart will uniquely figure out quantitative and qualitative information.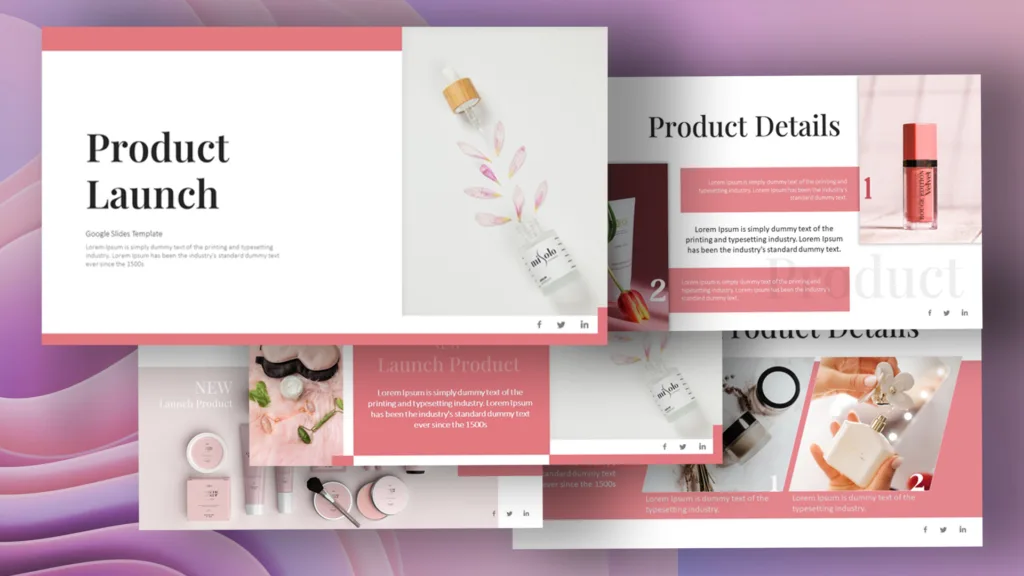 What type of design are you required to share your product details with? You might be a little bit confused when someone asks this question. However, when you come to this product launch presentation template, you will know how a product launch design should be. This is a highly professional google slide for product descriptions. It has two kinds of design structures; on the one hand, you can showcase the product's images with its details, and another hand, you can show the product features using separate infographic slides.
The product launch template has a separate pricing plan slide to communicate product prices and schemes in detail. This template is well-suited for startups and FMCG companies to display their new arrivals.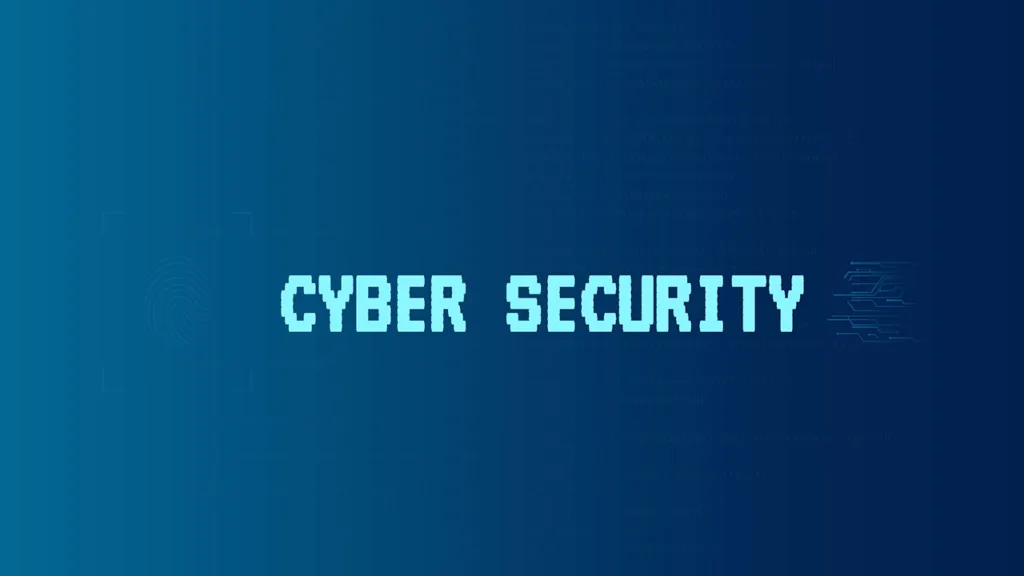 Presentations with cool google slides ideas and designs never show evasiveness to get rid of a subject because it secures all knowledge and matter under its umbrella. The cyber security presentation template will make your efforts easy with these instructive designs. If you are a teacher or a computer expert, you can use this educative google slide theme to spread new areas of jobs in IT-related companies by detailing their area of operation. Besides, if you are providing cyber security services, you can use the template as a company profile presentation, including the detail of your business model.
The blue-themed template has many diagrams, and vector images, such as flat vector designs, tree diagrams, timeline templates, circle diagrams, linear progression designs, and a pyramid google slides theme.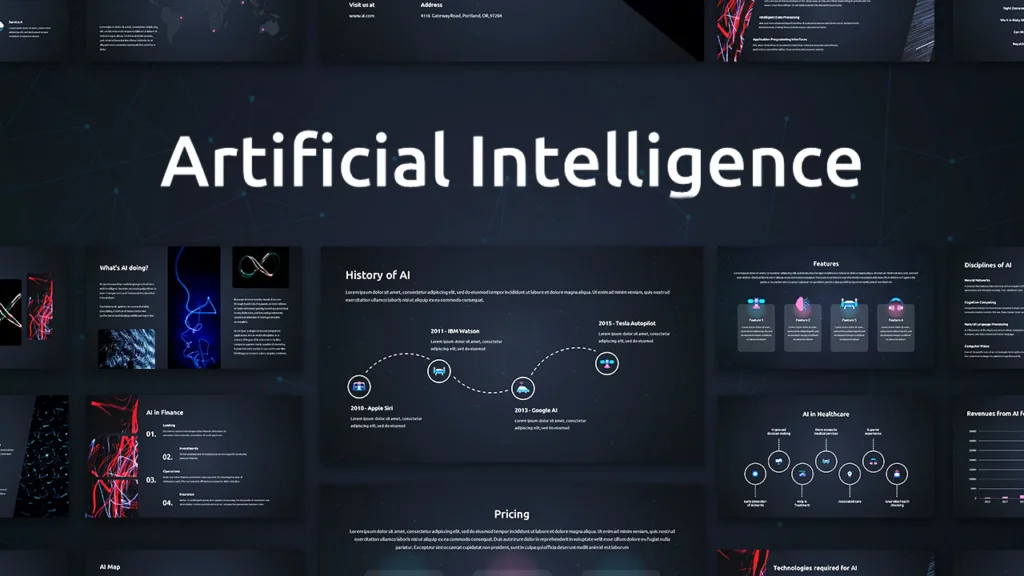 Technology presentation templates are always in demand when the world embraces modern technologies in daily life. The AI presentation template is a perfect deck to delineate the definition and scope of Artificial Intelligence. Though it seems to be an education template, it could be used as a company profile presentation slide to attract investors. Using compelling graphical images, you can detail the use of AI in finance, healthcare, and other fields.
The customizable dark color theme provides illumination in all images that make the feel of the sky on dark nights. In addition, the wired diagrams and the infographic images with AI-themed robots ensure the utmost audience attention.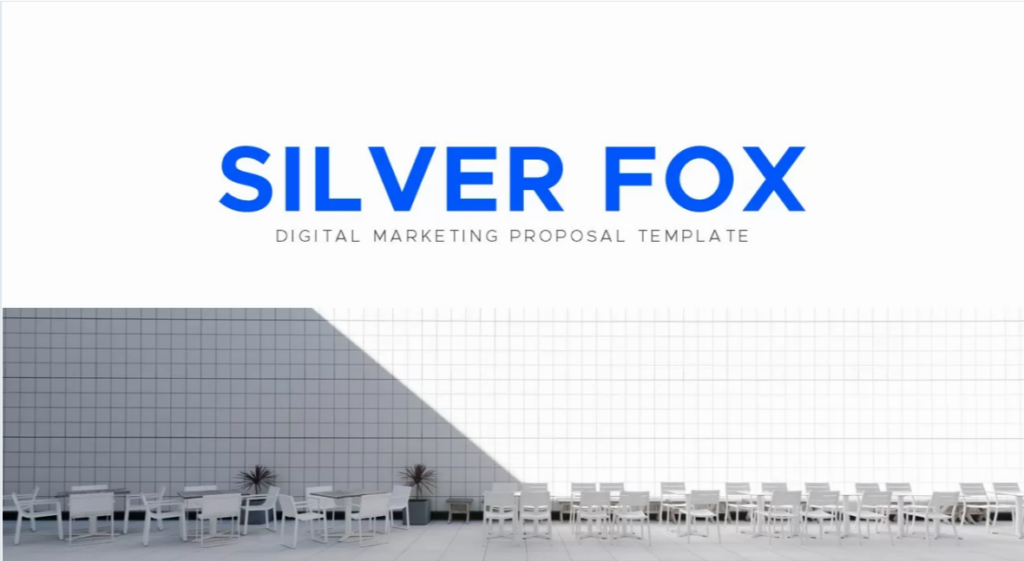 A digital marketing presentation template is an all-in-one marketing pitch deck focusing on digital marketing services. The template contains academic and business elements related to Google analytics and new digital marketing trends. However, this is the perfect slide for a business introduction with a special reference to digital marketing agencies. You can show all areas of your company's services with your packages. Besides, it comprises charts, line graphs, and area charts to show your business statistics.
This is a clean and neat business presentation template created on white background. This is the best slide for marketing if you are running a digital marketing company. However, the editable slide deck lets any presentation by altering the default texts.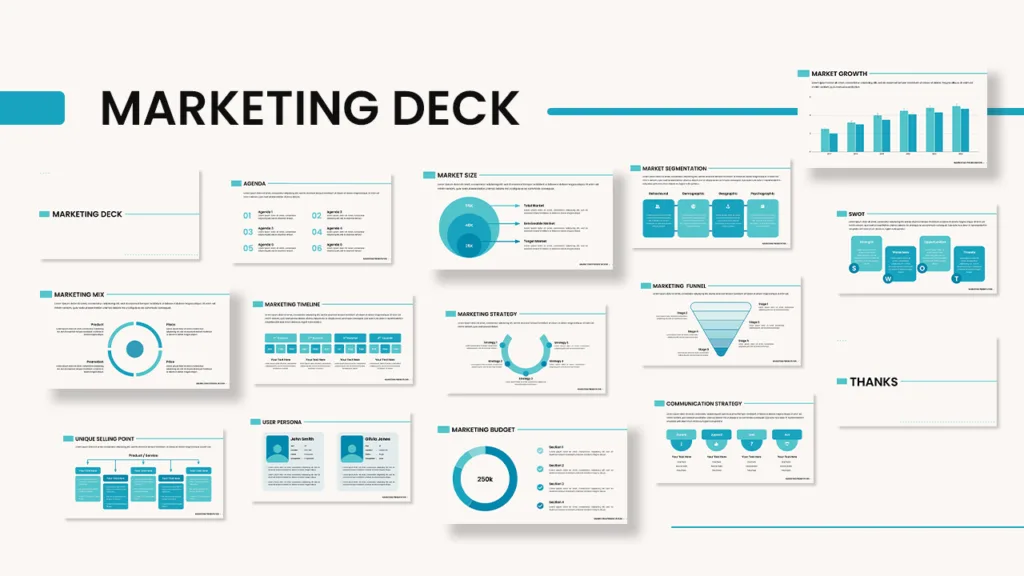 Looking to make your google slide marketing presentation visually interesting and more professional? Then, this marketing plan presentation template would be a great choice. This marketing template has many graphical representations to communicate marketing ideas with facts and figures. It includes a marketing funnel, agenda template, market segmentation, market mix, marketing growth, marketing strategy, and so on. It also has a user persona slide to display customer expectations digitally.
The marketing deck template for the google slide presentation has a duotone color mix on the images. The greenish blue and the variation of blue and green tints looks awesome on the white background. Of course, the accurately combined topics and themes will add more value to your marketing presentation.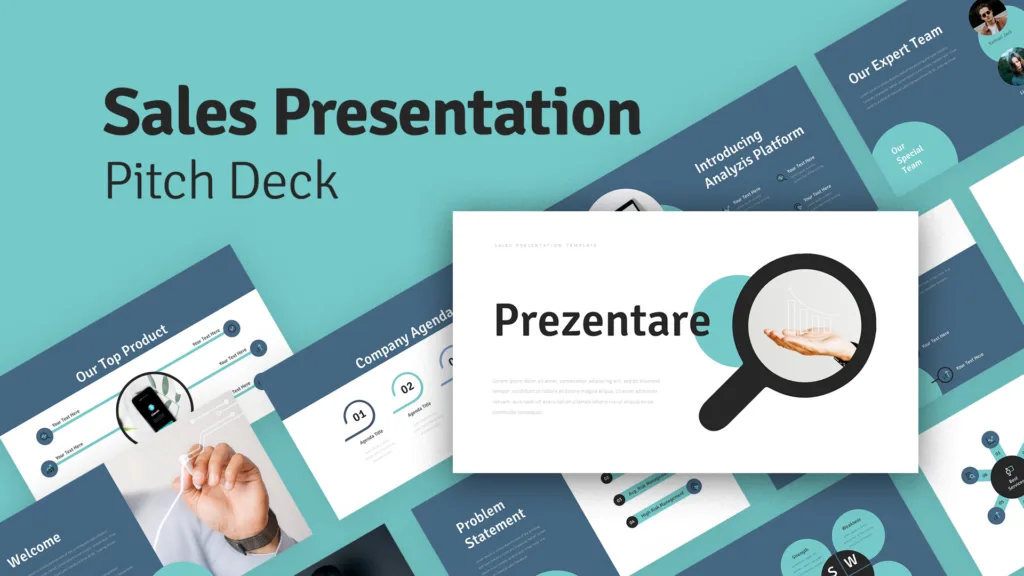 What qualities are you looking for in a readymade presentation template? Indeed, it should be a multi-presentation slide for different use cases. The free business presentation template contains generic designs and layout that suits any presentation on multiple occasions. For that, you can edit the content according to your requirements without changing the images and features. For example, the circular designs and timeline templates will suit any presentation idea, irrespective of your topic. Similarly, all infographic designs, including the world map presentation slide, will be worthwhile for multiple presentations.
The dark and light color codes let your presentation focus on the themes and contents of your meeting simultaneously.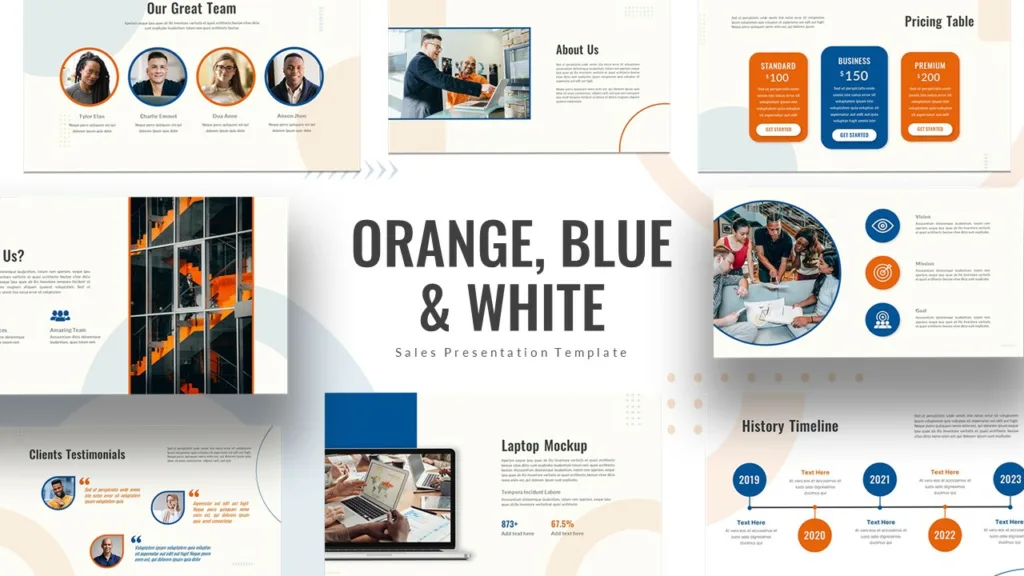 If you are looking for a lovely, stylish, and proper color mix, the google slides design with orange, blue & white theme template is a perfect choice. The template includes a captivating tri-color mix and is ideal for a simple business presentation to complex business events. The colorful infographic template is created with some cool google slide design ideas with a clear view of both edible texts and vector images. In addition, it includes a triangle timeline, vision and mission template, team template, client testimonial slides, pricing table, and many more templates for business presentations.
Orange, blue & white theme templates will provide a classy look for making an impact on your viewers. In addition, the business introduction, meeting agenda presentation, investor presentation, and company portfolio presentation will be compatible with other presentation topics too.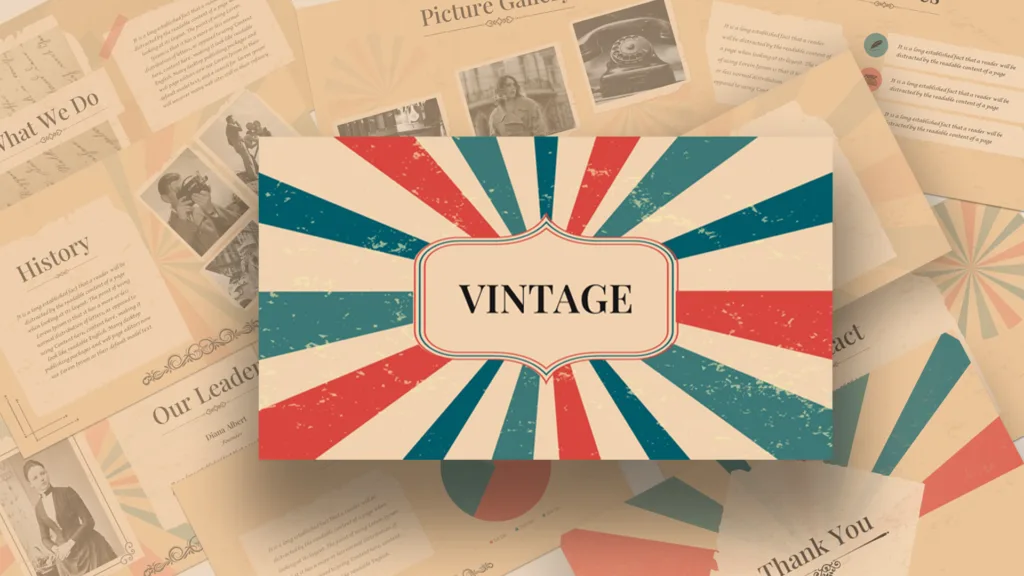 Are you looking for an ideal slide for a retro presentation? Then, this free vintage presentation theme would be the best choice. This template is crafted with vintage background design themes that help create a nostalgic feeling in the presentation arena. So, if you want to display golden memories of schooldays or make the history of your legendary company, you can download the vintage google slides theme. It contains vintage photographic designs, greyed tints, and old paper-cutting background images, ensuring a vintage feel.
You can download this free vintage presentation theme to discuss any topic with customizations. It is best for a company history presentation since it has a retro slide image.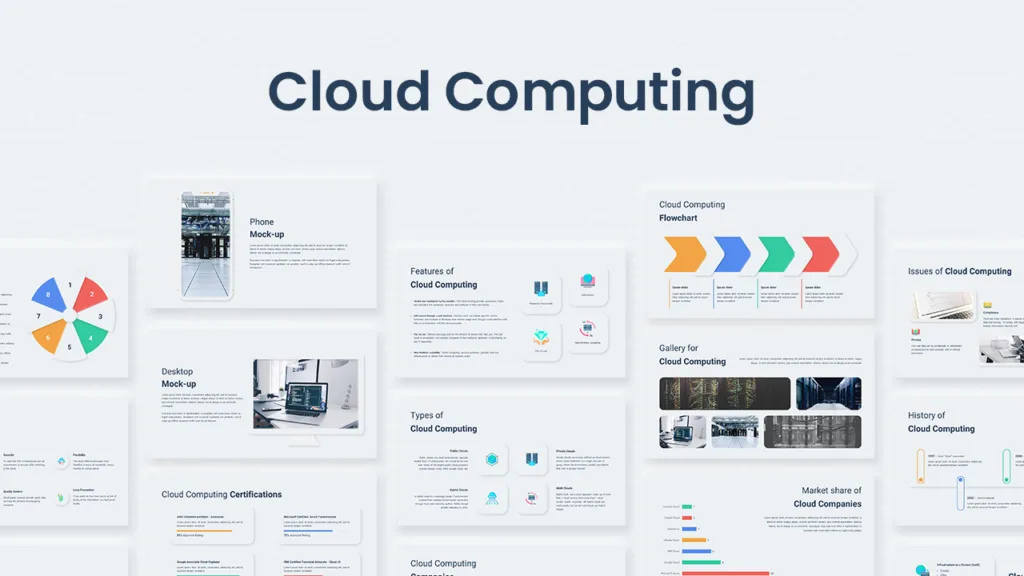 The multi-presentation cloud computing theme is one of the best google slides templates that allow you to display academic and business entities in a single presentation deck. It contains instructional designs such as the benefit of cloud computing, issues of cloud computing, and types of cloud computing for your education presentation. In addition, it comprises bar charts, a circle diagram and arrow timeline template, and a mock-up presentation for the company introduction.
The 20 unique slides are created for exclusive presentations on the advantages and benefits of cloud computing. However, the generic infographic designs will munch any topic because of the common presentation trend designs.
Final Words
If you are a design pro, you can create the best google slide templates using your knowledge and skill. Otherwise, you can visit websites like SlideKit that contain more themes for google slides. This is only a simple introduction to the list of best google slides templates for different presentation requirements. However, you can always dive deeper for more cool slides fitting your choices.