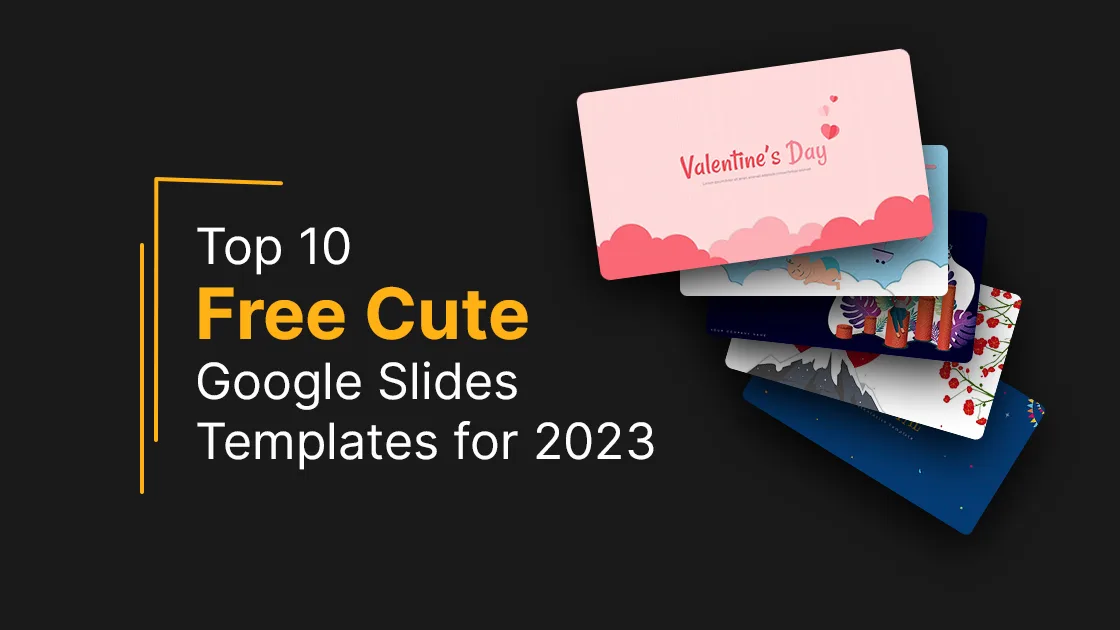 Presentations help to convey a message more clearly than the usual face-to-face conferences or meetings. Each presentation delivers a great story to the audience. And this is the major reason for increasing the success rate of attention in presentations. The designs or templates used in the presentation greatly attract the audience, and this is the scenario where cute google slides templates come into play. The mix of creative images, infographics, fonts, and icons makes these templates extremely different from standard presentation templates.
The aesthetic beauty of these slides makes them more attractive and could be used in different situations. You can use them across your business, education, entertainment, and other presentations. Luckily, there are many cute free presentation slides that you can easily download and use across your presentations. These readily available templates are easy to customize and will give your presentations an edge over the others.
Google slides allow you to import built-in shapes and designs, but they are too basic and general. You couldn't find any attractive or customized themes in the built-in library. But you can solve this problem with the help of downloading and using free and customizable cute slides from many websites that provide google slides presentation templates. They also offer many other free templates to help you create better visual presentations.
List of top 10 free cute google slides templates
Now, we can directly jump into the list of the best 10 free cute presentation templates for google slides which are easy to download, edit and use.
Share the feeling of relationships, love, and care with your beloved ones with the help of these lovely valentine's day presentation templates from SlideKit. This presentation deck contains 20 unique, easy-to-use, and fully customizable slides. All the slides are packed with some infographics related to the valentine's theme, like the red paper model hearts, air balloons, postcards, etc. And the light rose color background makes these slides even more attractive. These slides help deliver great messages related to valentine's day, its history, and the stories behind the celebration. Feel the joy and happiness of the day with these must-have valentine's day presentation templates.
The Japanese Presentation Template depicts Japanese themes, fonts, icons, and images. This template can be used as an education presentation templates for introducing the country, its culture, history, cuisine, and other details. Or you can use these slides as a tourist guide for tourism and travel companies to locate the major tourist attractions of the country, Japanese cuisines, and their traditional clothes and art forms.
Most of the slides contain a mix of red and white themes that make them more pleasing and engaging. In addition, there are cute images of the most famous places in Japan, and the fonts used are also similar to Japanese ones. You can download this cute Japanese presentation slide for free.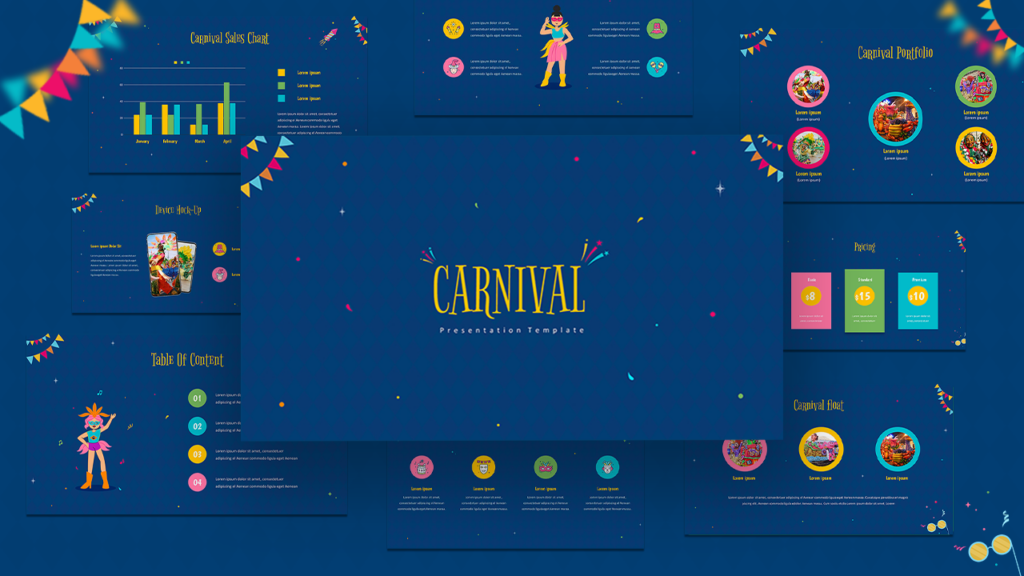 The carnival slides give a vibrant and energetic start to your festivals or celebrations. Present your special business agendas of the season, festive offers, and pricing plans with the help of these charming and engaging carnival presentation slides. This unique deck contains 20 slides with a blue color background and some festive illustrations, characters, and vector images. The carnival template also helps to introduce your carnival services, performances, and characters. The fun-filled characters and pictures make this template stand out.
This cute Kawaii Presentation Template helps to give life to your ideas. Kawaii is a Japanese word that means beautiful or lovely. As the name suggests, you can see vector images and graphics of different food items. The pale pink color gives the slides an attractive look, and the presenters can use these slides for different purposes. They can use this as a business introduction template, educational presentation template, and during fun presentation sessions. The Kawaii template deck comprises 15 unique, fully customizable, and easily editable slides.
This free baby shower theme template comprises 15 slides that help easily present your child's growth and development stages, baby care agenda, and baby nutrition graphs. Besides this, you can find many other slides that can include images of cute and beautiful moments of your baby. The sky blue and white color mix of themes gives this template an eye-catching appearance. In addition, you can find different icons and infographics that perfectly align with the theme of this template. Businesses and institutions focusing on baby care and kids' essentials can use this template to present their services and agendas to their audiences, especially parents.
This animated education template mainly focuses on KG and Pre-KG students to help them learn the alphabet, words, and symbols. Kids will find these images relatable to those images in their books, allowing them to study and remember them easily. The slides are filled with pictures of animals and related illustrations to keep the children's attention.
The template contains 20 unique slides that are fully customizable and easy to edit. You can also use this template to give an elementary school presentation before a trip to the zoo or recreate the memories of a zoo trip. The mix of pale green and white color backgrounds gives a touch of nature and earth. This makes the children more attractive and gives them the feeling that they are inside a zoo, not in school or at home.
This cute presentation template comes with different vectors, graphics, and illustrations representing Thanksgiving day. The template contains 10 different slides, each with different designs and vectors related to food, fruits, vegetables, and flowers. You can find an attractive mix of colors in these slides, including yellow, orange, and purple. You can use them for presentations during festive celebrations or as an educational presentation template. Celebrate the blessings of the past year with the help of this free thanksgiving template.
If you are a business that focuses on gardening, you must have a gardening presentation template that helps present your company to the audience better. The 20 unique slides are designed with a dark theme background and green-colored fonts that make the slides look more natural. In addition, you can find different vector images of plants and garden pots, a special font that perfectly aligns with the theme, and some charts and data sheets with placeholders. These slides are helpful in presenting the tips and steps in gardening, the types of gardening, and educating people about the importance of gardening.
Get your creativity done with the help of this UNIQ Business presentation template. This template helps you in financial fundraising for your company or organization. There are 11 unique slides in this template which contains some creative vector images, art, and engaging designs. The dark blue theme in the slides gives them a professional look even though they are modern and creative.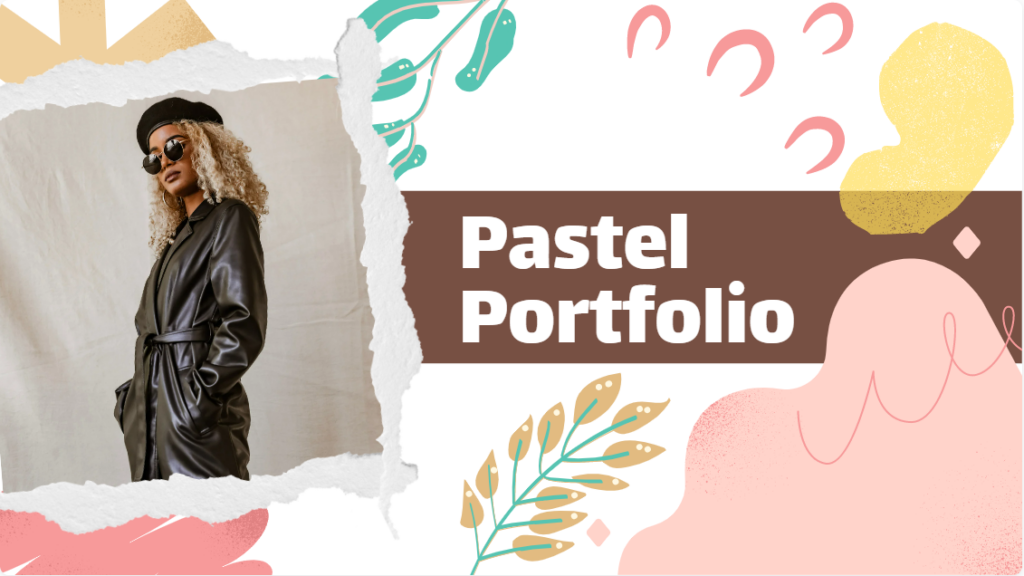 These peach and yellow-colored pastel slides help to present your portfolio to your fellow audience easily. These multi-color presentation slides with a mix of cute vectors, images, and graphics give your presentation a magical look and feel. You can download this modern cute presentation template with 25 slides freely.
These are the list of free templates that you can download and easily customize each slide according to your niche and requirements. You can also find some other cute presentation templates below, but they aren't free. You should need a subscription plan to download these slides.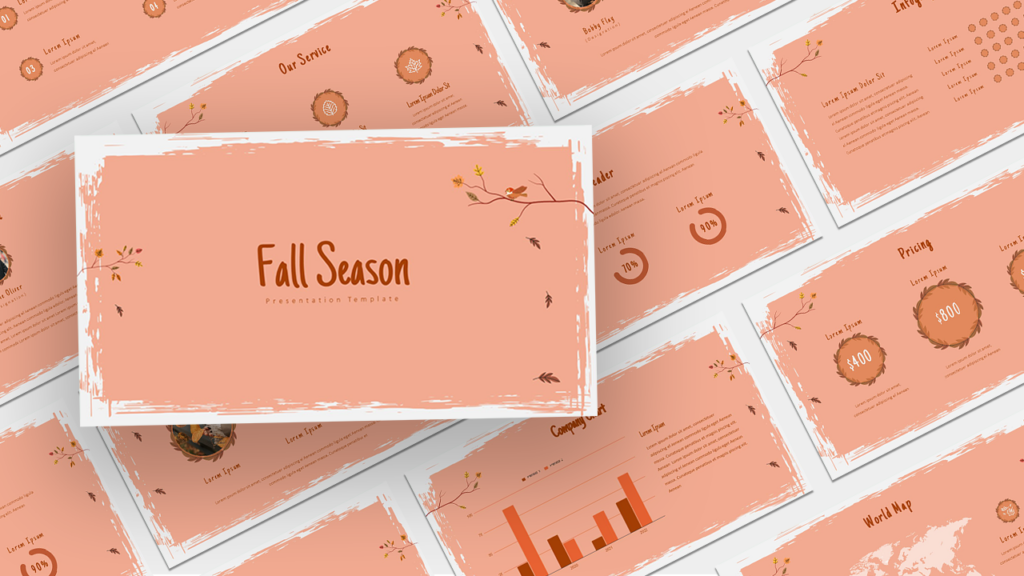 This visually appealing and stunning fall theme template helps to present your business or services to the beneficiaries. The template is designed in such a way that it will steal the hearts of the audience with its amazing themes and images. The light salmon-colored background with designs of falling leaves and dried branches of trees perfectly depicts the fall season.
The slides contain different images of dried leaves and fall theme images. You can use this template for business presentations, company introductions, project presentations, and meetings, especially during the autumn season. It also helps to introduce your special pricing package details during the season.
Make your audience engaged throughout the presentation with the help of an attractive Pastel Theme Google Slides Template. This elegant template with 18 slides contains a mix of different light colors, making the presentation more delightful. You can use the pastel theme slides to introduce your new business or products. The slides are designed in such a way that the transition from one slides to another gives an animated feeling to the slides.
How to import slides in google slides?
To import a free template, all you need to do is download the required template. Then open a new slide in google slides >> go to File >> Import Slides >> Select the slide you want to import (select multiple slides if it is a deck or contains multiple slides) >> After selecting all the slides, click on the Import Slides button. The selected slides will be imported, and you can start editing.
Benefits of cute presentation slide templates
The major advantage of using a ready-made template is that it will save you precious time, and this feels super exciting for you, especially if you are a top-level manager or senior employee of the company. Experts in the design niche design all these templates; hence, there is no doubt about creativity or professionalism. These designs will be useful, especially if you are focusing on audiences related to primary education, the entertainment industry, and environmental conservation.
Teachers love these cute designs since they help catch students' attraction simply. It helps to deliver their topics without much effort and is perceived by students easily. Children, especially girls, love flowers, butterflies, animals, and nature. And that's the reason why these slides are designed with such lovely themes.
Kids will be super happy with these fun-filled and enjoyable presentation slides. They will get the feeling of playing a game or watching a cartoon video during the slideshows. These slides have light and pleasant colors, minimal yet attractive themes, and elegant backgrounds. And this makes it beautiful and loved by presenters and audiences of all niches.
Final Words
And that's the end of the free cute google slides templates list. You can find many other google slides templates and infographics for your business, education, and all other presentation niches from our list of free and premium presentation templates.