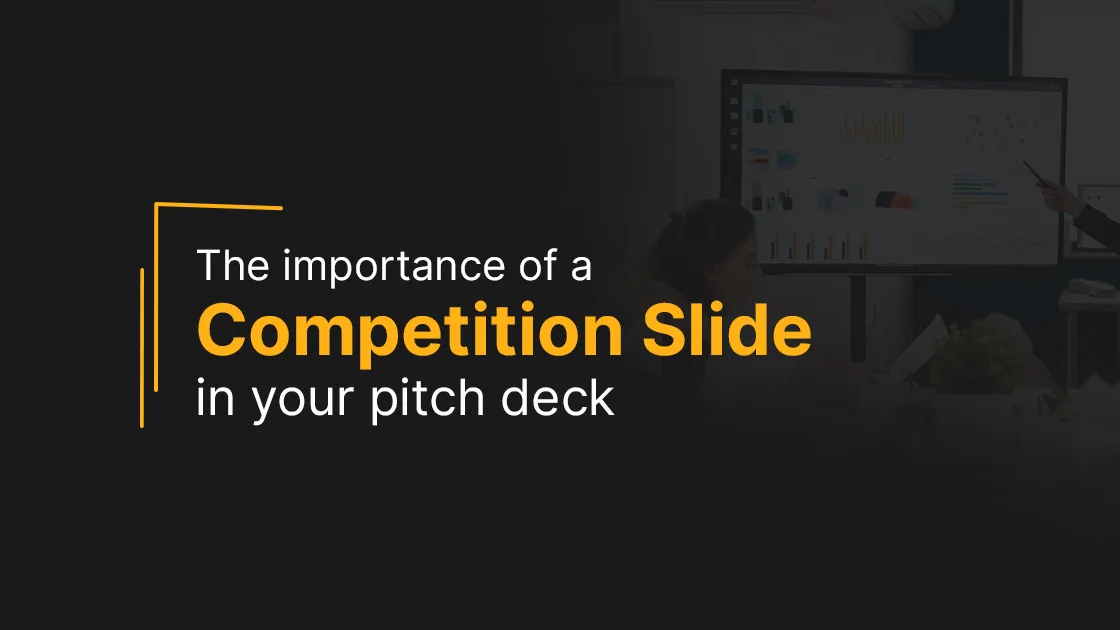 The competition slide is not just a simple slide that outlines your competitors, but it's an overall analysis of your business, your existence, and your future. Also, this is an opportunity for you to discover your company's true potential. And this is the reason why the competition slide has been one of the favorite subjects for founders and investors over the years. In this article, we discuss the importance of the competitive analysis slide, the major things to focus on while designing it, and the most common methods to create it. Now, it's time to head to the topic.
Need of a pitch deck competition slide
Every day, the market around us is filled with new products and materials. New products evolve as a result of several research and development processes. All these products serve some special purposes or are designed to ease human effort to a certain extent. More and more brands enter the market mainly because of the competition for the item. And this is the point where any business or company needs a competitor analysis slide in their pitch deck.
The ever-evolving market is competing daily to make their products better or, in other words, to rank number one in their niche market. Lack of competition means that there wasn't anyone to try out your product. Or we can say that there is no demand for the product. The other possible chance might be that you aren't really aware of the competition. In both cases, if you are not ready to take the necessary actions, you are wasting your time and capital.
There are some essential things that your competitor slides should reveal. These points should be among your company's major focus, and focusing on them will drive more value to your brand in the future. Always keep in mind that there is no venture without competition.
Competition slide pitch deck: Things to include
The pitch deck competition slide should tell exactly what the business needs to focus on and how much it should focus on. Some major things to focus on while designing your competitor analysis slide:
An ideal competitor slides should answer certain questions like:
Who are your real competitors? Are they local or global?
What are the things you both share in common?
Do your business have some special features that you can highlight, or how is your business solution superior to the other competitors?
Do your product or service actually solves the problem? Are there any alternatives or alterations required?
Why should customers choose your business or product over your competitors?
The slide should also include important things(main content), like
The details of your direct and indirect competitors. Try to include your direct competitors with a proper study of their market share, pricing plans, and other common details.
It should tell the position of your business compared to the competition. Analyzing this information will help to maintain the position or rank it up in the future.
The competitive advantage of your business should also be included in the slide pitch deck. This means how your business is differentiated from competitors.
The Unique Selling Propositions(USP) of your business.
And a SWOT analysis. It should reveal the strengths, weaknesses, opportunities, and threats of your business.
4 things to focus on while conducting a competitor analysis for your pitch deck
It's more than just adding some random information about your opponents into the competitors' slide pitch deck. Instead, you should have proper research and analysis of the following topics. A detailed competitor analysis pitch deck mainly focuses on four areas:
1.
Businesses
As we discussed earlier, the major focus here is to determine your direct and indirect competitors. Look for companies that are similar to your business, their market share, company size, and location (local, regional, national, or international). Choose a competitor with the most set of loyal customers and analyze why people always prefer them.
This is an important stage since all your other decisions or strategies are based on this analysis. This will also provide you with further opportunities for research and development. You can suggest or implement an update that your top competitors are missing in their products or service.
2.
Customers/Audience
The next important thing to focus on is the target market. Customers are the key to success in any business. Identify and study the target audiences of these firms, from where these businesses acquire customers, their demographics, interests, behavior, and their return rate. Compare this data with your audience data. This will help you in giving a good idea of your real competitors and from whom you need to acquire or convert audiences as your customers.
3.
Product
Get a detailed analysis of the product, how it is evolved over time, pricing, and features, and check whether it satisfies the real needs of your customer. It gives an idea of how your product is unique, and you can analyze whether your product is really worth the price. This data further helps in cutting down or sorting the list of your competitors.
4.
Marketing
Study the marketing strategy of your competitors, how they are branding their product, advertising channels, outreach methods, and their marketing budget. This helps you to frame your own marketing strategies based on the things that work for your company. It gives an idea about where to spend your budgets effectively and what customer acquisition channels you actually need to focus on.
Methods to create a competitor analysis slide
There are mainly two methods for creating a competitor's slide. Both of them are used widely based on the requirements and the niche of the business, and both have their own merits and demerits.
1.
Gartner's Magic Quadrant
This is basically a simple graph with your most relevant competitors listed on the sides based on their features. This is the most commonly used method, highlighting your top competitors and the market average. The main advantage is that it presents the data clearly, and we will get a clear idea of our competitors within seconds from a single graph itself.
This method limits the presentation of your competitor's research data to certain points, and you can't display all your findings, only the major ones.
2. Power Grid
A power grid is a table comparing your business against your competitors and their features. Here you can include your top 5-6 competitors and compare the features of their products/services. This gives an idea about your product's or service's true value, and you can find additional chances for improvements. You can include the specific features or benefits that you offer and compare them with your top competitors. Always try to give quantified data rather than just explaining the benefits. Think about the most relevant benefits you care about and try to highlight their value.
Final words
Now that you have a clear idea of designing a perfect pitch deck competition slide for your business presentation. But remember, realizing the competition and identifying your real competitors are the major success of any competitive landscape slides. So, keep the pitch, do your research, analyze each point clearly, and highlight your offerings. Don't ever try to state that you are better than your competitors; instead, try to highlight how you are different or how you are performing better than them.